Posted on July 22nd, 2013 by B. Hobbs
Here's some words from our homies at Southern Hospitality about the Yung Nation "Shawty Wassup Remix EP"
"There simply isn't a more exciting rap group than Dallas, Texas duo Yung Nation. Local club hits like Club Rock, Pimp and the Mike Will-produced single WTH as part of the Prime Time Click with fellow Triple D'er Dorrough Music, built B. Reed and Fooly Faime a cult following.
Their guerilla marketing tactics and championing of Dallas dance craze Skitzin on the road and at every live show (their performance at Southern Hospitality's Super Rapper Show in March was ranked among SPIN's Top 50 Best Things We Saw At SXSW 2013) has expanded their fanbase even further.
And, having been snapped up by eOne Music, new single Shawty Wassup, produced by June "The Jenius" James, is igniting dancefloors and mixshows across the south and beyond.
Which is why Southern Hospitality is so proud to present this collection of remixes by some of their more esteemed global supporters: from Baton Rouge (Suicideyear), Philadelphia (Krueger), Paris (Kaptain Cadillac), London (Murlo), Oslo (Slick Shoota), New Jersey (DJ Tricks) and Brooklyn (Wreck Tech). "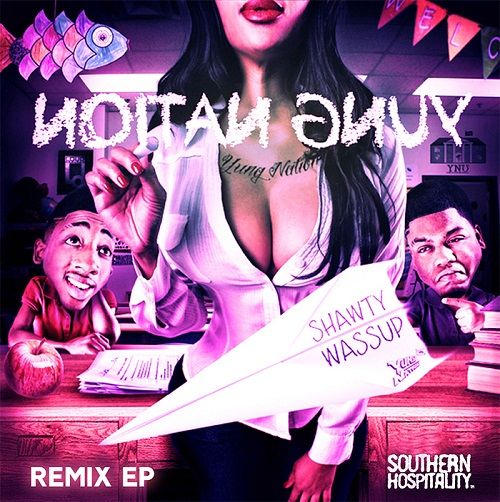 Tweet